Holdsworthy Bethanga

---
---
Holdsworthy was selected in 1878 as part of the breakup of the squatter's runs.
There have been five houses built on tthe Rowley property. The general property was called Holdsworthy, but the name later became associated with the second house.
The houses are discussed below. In order they were: The Glen, Holdsworthy, The Cottage, Joe Rowleys House, Glenworthy.
Then follows a section on when the houses might have been built
Then follows a discussion of a family that may have rented the Glen in the 1920s

The Squatter's Runs
The following map originated in the Port Phillip Gazatte in 1848. It shows part only of the map.
It has obviously been modified as it shows the boundaries of the Hume Reservoir built in the 1930s
Also the railway to Tallangatta is shown, obviously built later
Gundowring Station where John Clarkson Rowley wae overseer is rightish at the bottom
Beechworth is bottom left corner. Holdsworthy is approximately where Beethanga is in small print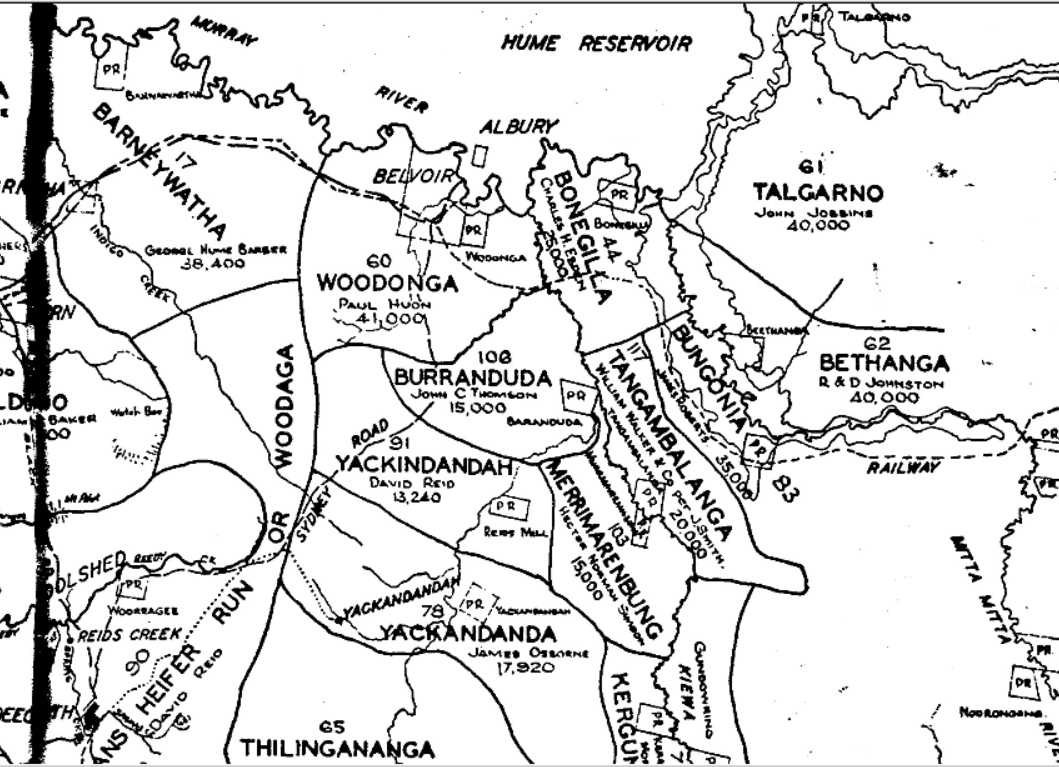 The Glen
In the 1950s there were traces of a house in a valley up near the base of the big hill on the property.
In 1879 Johm Clarkson Rowley applied for the lease of the property, which he eventually converted to purchase in 1901
I suspect that early in this period he built the house at the Glen. The site is located near the most reliable water on the property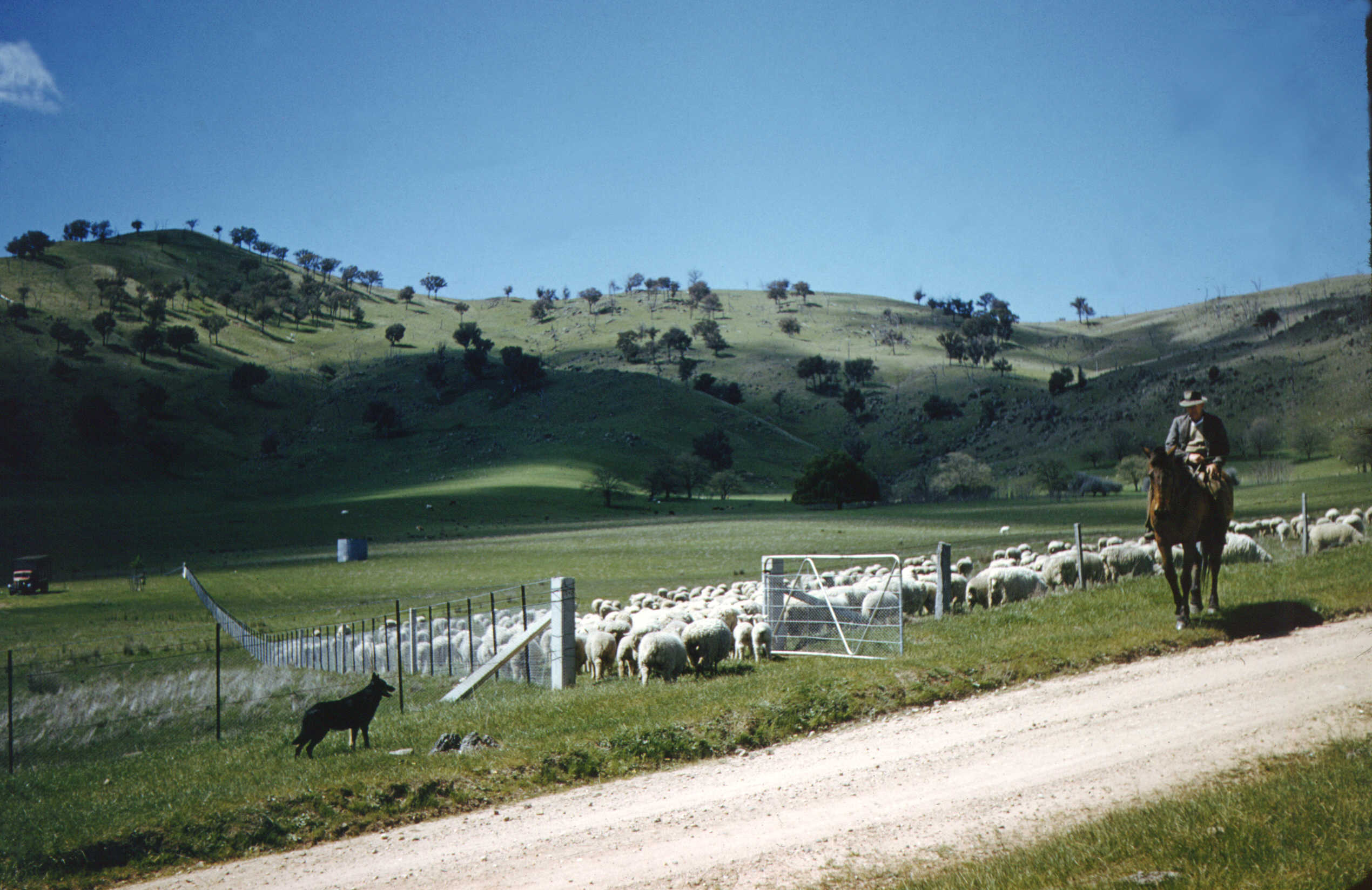 The house was located at the base of the hill just to the left of Claude Rowley in the picture (1957 photo)


Holdsworthy
Is located further down the slope near the river flats. I suspect it was built for John's son Joe, probably prior to his marriage in 1909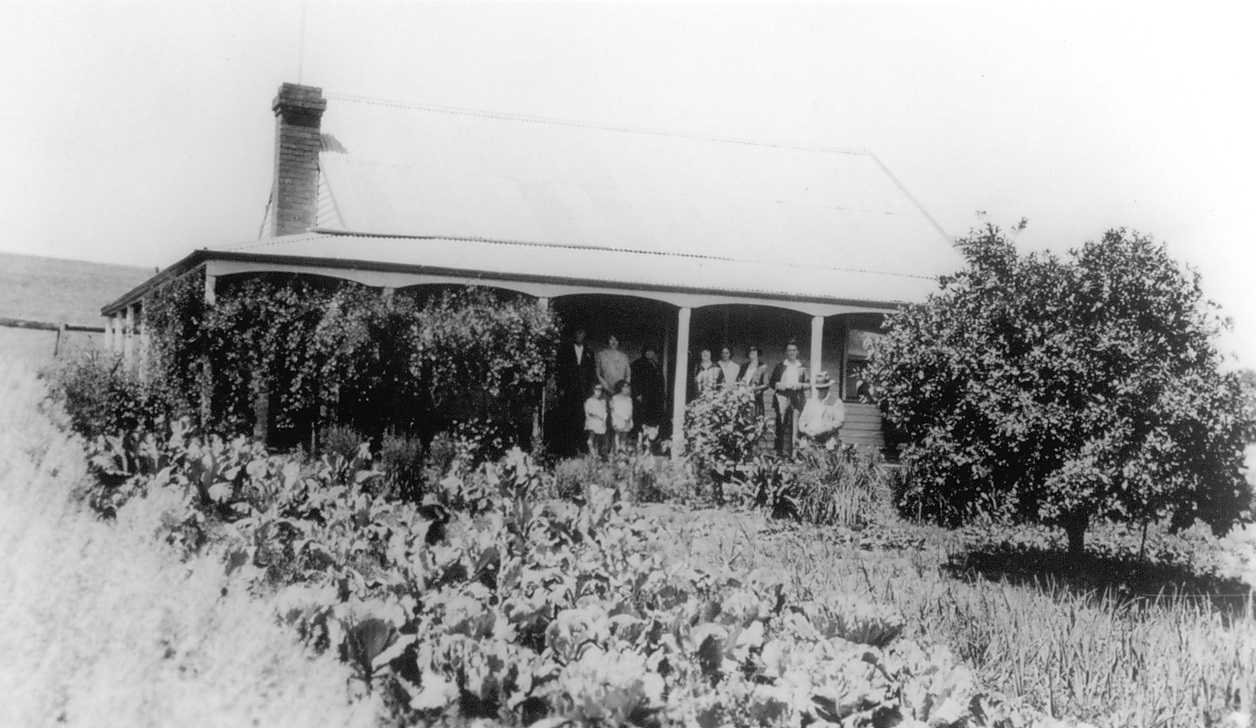 The leftmost family group looks like Joe, Avis, Dorothy and June, which would place the photo in the late twenties.
That is also consistent with 2nd right being Claude. This house was flooded by the Hume Weir extension in the late fifties.

There was a big occasion at Holdsworthy in 1903 when John's daughter Ettie married Herbert Nichols
(Link to newspaper report)
The report makes interesting reading. After the wedding the party drove to Holdsworthy where a "sumptious breakfast" was served, after which the couple departed by train from Wodonga.
The remaining party then drove back to Holdsworthy for "tennis &c and dancing to the small hours".
The wedding presents were described as "numerous and costly". The report then gives a list of guests and their presents. So we have at least a partial guest list.
The wedding was Catholic. This is in line with the reported agreement between John Rowley (Protestant) and Sarah Smart that boys would be raised protestant and girls Catholic.
An interesting compromise in those days in country Victoria when the split in society was very real.
The agreement was varied when their fifth child (a boy) died at 18 months. The last child Simon was raised Catholic.
Presents were received from the Brigidene Nuns (Beechworth). They are probably where Sarah was raise as a child. (her mother had died)
Flossie and Adelaide Mitchell were present. They were about 20 and living in Bethanga, as Ellen and Tom White were then living at Whiteford. Ellen and Tom were there also

There was a tennis match at Holdsworthy against Kiewa in 1914. Link to newspaper report for players and scores. 7 Matches were played and Holdsworthy won by 15 games

The Cottage





The Cottage
This is John Clarkson and Sarah Rowley on the front verandah. It was a small cottage built on the flats below where Joe Rowley would later build his house. Probably buily for John in retirement, He would have been 73 in 1920


The Cottage
The house was located near the stump just right of the middle of the picture. Joe Rowley's house is on the top of the ridge, at the very left of the picture. You can see sheds at the back, and some of the back garden.


Photo taken 2005






Joe Rowley's House
This is the fourth house, built for Joe and Avis probably in the thirties. When Claude and Elsie married, they went to live in the Holdsworthy house.


Photo taken 2005


Glenworthy
This is the fifth house, built by Claude and Elsie in the mid-50s when the Hume Weir was about to flood their home


Photo taken 1967

When were the houses built?
The following Chronology is relevant
1874 John Rowley and Sarah Smart married Beechworth
1879 Butcher in Bethanga, applies for lease on Holdsworthy land
1884 Describes himself as farmer on lease extension application
1985 Joseph Smart dies
1887 Holdsworthy property well established (house, kitchen, shed, cowshed, 4 dams, well, orchard)
1888 The Rowley family now have five children
1901 Land lease converted to purchase
1903 Wedding breakfast at Holdsworthy house
1909 Joe Rowley marries Eircell Broome
1910-20 John Rowley moves to The Cottage and Joe to Holdsworthy.
1935-8 Joe Rowley's house built
1939 Claude Rowley and Elsie Mitchell marry and move into Holdsworthy. Joe and Avis move into their new house
1953 Glenworthy built and Holdsworthy demolished due to the encroaching Hume Weir waters
Conclusion
The Glen house was probably built around 1880 to satisfy lease rules. This might have been a stopgap until Holdsworthy could be built
Holdsworthy seems to have been built before 1887. Support would have come from Joseph Smart and his estate as Sarah was his only child
When Joe Rowley married in 1909, John Rowley was 62, Perhaps this triggered The Cottage, and then Joe moved into Holdsworthy
The Glen was then available to rent and was let. The Glen house had gone by the late 1940s


Who lived in The Glen in the 1920s?
John Rowley was 73 by 1920, so it looks as if by then he was living in the Cottage (see photo above). So who was living in the Glen.
Claude and Elsie Rowley told me of a family living there but I can't remember their names.
It could have been the Michell family. Elsie Rowley (nee Mitchell) was born in 1914 and lived at Whiteford (about a mile from The Glen)
She became very good friends with the two Michell girls (Mary and Joyce) who were the same age
The father Henry lived in Bethanga in 1911 when he was declared insolvent due to mining losses. He is listed as a baker
The Michells were away for a while (1913 Mary born Newport Vic, 1915 Henry butter tester Gunbower, 1915 Joyce born Cootamundra)
From 1920-27 Henry is listed as grocer, Bethanga. In 1936 Mary and Joyce are living in Bethanga (home duties, hairdresser)
Elsie Mitchell's family moved to Tallangatta in 1926 when she was 12, and abandoned school for domestic dutied.
It would have then been much harder to strike up a friendship with the Michell girls
The Michells look as if they would be renting, and if they were neighbours of Elsie's, that would explain the close friendship
The Glen was vacated by John Rowley 1910-20.
The following photo shows the good friends together on a trip to central Australia in 1970. From left to right -
Mary Sommers (nee Michell) Elsie Rowley (nee Mitchell) and Joyce Parsons (nee Michell)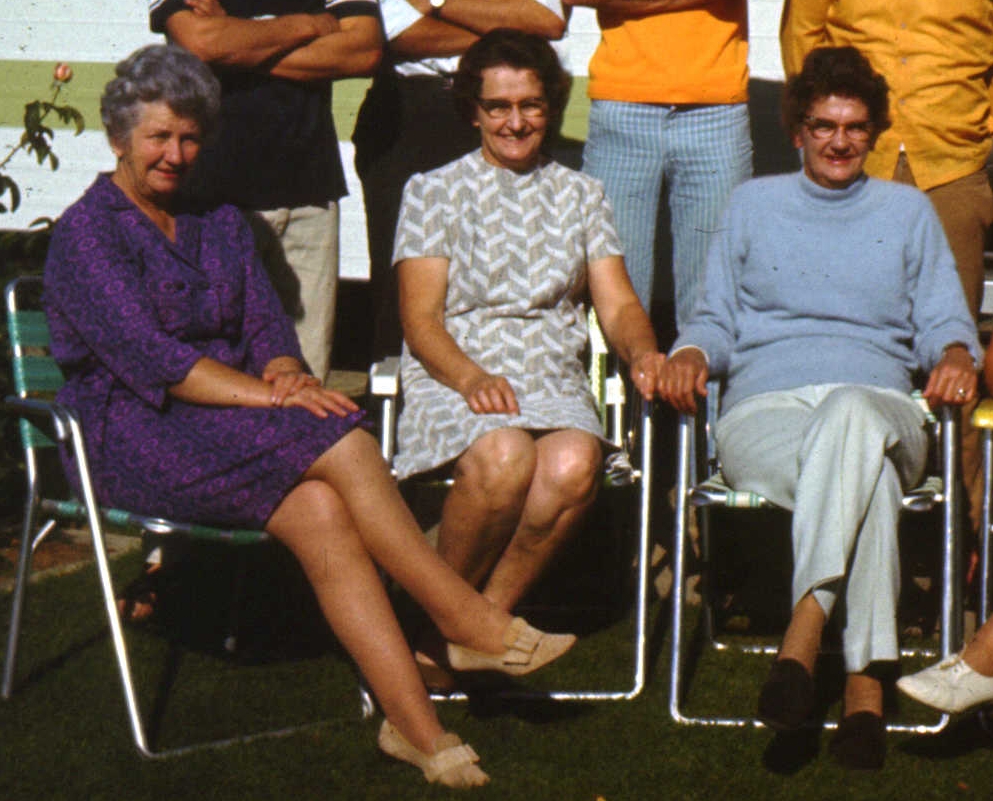 ---
If you have additions or corrections to this page, please
contact us
Bones in the Belfry
home page
Page last updated - 14 Feb 2021