William Davis and Mary Geer

---
Parents: William Davis unknown Edward Geer (b 1763 Henfield Sussex, m Mary Bowlden 1788 Henfield) This family is a 50% chance
Mary Bowlden (b 1767 Henfield)

William Davis (b abt 1772 WAR Eng, m Mary Geer 1815 St Johns Anglican Parramatta)
Mary Geer (b 1789 Henfield Sussex, d 1851 Kent St Sydney)
Hepzibah Davis (b 1807 Windsor NSW, m William Syrett 1823 St Phillips Sydney, d Aug 1823 Sydney)
James Davis (b 1809 Parramatta, m Elizabeth Fowles, d 1892)
Eliza Davis (b 1811 Parramatta, m George Onslow 1826 St Phillips Sydney, d 1879 Margaret St Petersham)
Mary Jane (Jane) Onslow (b 1829 Liverpool, NSW, m John Rowley 1846 St Lukes, Liverpool , d 1909 Yule St, Pertersham)
John Clarkson Rowley (n 1847 Liverpool, m Sarah Jane Smart 1874 Beechworth Vic, d 1928 Bethanga)
Joseph Smart Rowley (b 1875 Yackandandah Vic, m Eircell Broome 1909 Albury NSW, d 1957 Bethanga)
m Avis Sirl 1922 Albury
John Davis (b 1814 Parramatta, m Elizabeth Dowling, d 1858)
Samuel Davis (b 1816 Parramatta, m 1840 Cecilia Thompson-Hooper, d Orange, NSW 1878)
Ebenezer Davis (b 1818 Parramatta, m 1846 Louise Valla Briarley, d Kings Plains NSW 1895)
Robert Davis (b 1822 Parramatta, m 1843 Elizabeth Hollongshead Paramatta, d Gulgong ?)
Charles Davis (b 1825 Parramatta, d 1842 Sydney)

1841 Census
Grinstead Common, East Grinstead, Sussex, all born in county

Edward Geer 62, Agricultural Labourer
Mary Geer 58
William Geer 22 Agricultural Labourer
Thomas 18 Agricultural Labourer

These Geer appear miles to young
There is a Mary Geer
Aged 70, Parish St John The Baptist Southover, Lewes Sussex
Who is closer in age

Research
To follow up on
John Davis-Slade's emails - He has suggestions as to parents of William

Email 1
"
For some time I have been trying to identify the date, and where William died with little success. The best lead I have is Mary Geer's grave-stone and death certificate.
Inscription on the stone is; Sacred to the memory of MARY DAVIS the beloved wife of WILIAM DAVIS who departed this life March 27th 1851.

The death certificate Number 85 of Vol: 113 shows:

Her abode: as Goulburn Street (Sydney)
""Age: 67 years
When buried: 30th March 1851
Where ceremony performed: Parish of St. Andrews
County of Cumberland NSW
By whom ceremony performed: John Ham

The wording on the head-stone could indicate that William was alive in 1851 as his death details are not included.
I notice Margaret Hardwick suggests that only one William Davis was buried by the Baptist Church and that this may be him
."
Email 2
"
The ages of William Davis like all early convicts vary greatly and everyone has a theory as to the correct one, here is mine.
I was advised by Sheila Tilse (a descendant of William Davis and Mary Geer through their son Robert).who worked on the Australian Dictionary of Biography project. She suggested that I take the ages given on William and Mary's Marriage certificates as these were the ones given by the person themselves. William gave the age of 35 at his marriage to Mary Geer in 1815, which puts him born in 1780. At the trial he was described as a native of Birmingham.

I checked my past research records and found the following
In 1981, I made contact with a Mr T.G.A Watson a Birmingham based Genealogical Researcher, the

brief I gave him was to search local church records for the birth/baptism of William Davis and the possible marriage of his parents in the Birmingham area.
He found the following results:
10th September 1780 born/baptized at St. Martinís in the Bull Ring Birmingham
11th September 1780 baptized at St. Philipís Cathedral Birmingham
William Davis the son of William and Ruth Davis
Search A. Completed for 1775 to 1780 Records for Baptisms St. Martinís in the Bull Ring
There were nineteen William baptisms at these three Churches during the period requested. Only one was found for the year 1780. (10th September 1780, son of William and Ruth Davis)
Search B. Completed for 1730 to 1780 Records for Baptisms St. Philipís Cathedral
There were eight Williams baptized during this period, three had fathers named William. One in 1732, another in 1738 so they were not our William, there was only one record for 1780 on the 11th September, the son of William and Ruth Davis.
JD-S Note: Reason for two records at different Churches not known.
Could it be that St. Martins was their local church and they had a relationship with the pastor there? And then they wanted a grander ceremony at the St Philip's Cathedral?
Mr Watson recorded the names of all children born as well as their parentís names during the above years. There were 62 records and only two had a mother named Ruth and these were the two listings for William Davis
Search C. Completed for 1719 to 1779 records for marriages at St. Philipís
No record found for William Davis to Ruth Davis: I am having this researched in further years.
Search D. Completed for 1730 to 1775 records for marriages at St. Martinís in the Bull Ring
No record found for William and Ruth Davis:
I am continuing with this line based on the reason I have given, and in the absence of any other reasonable alternatives. As you know William arrived 207 years ago, and so far, no birth or death date has been determined due to the common name William Davis. The uncommon name Ruth, attached to William Davis is the first real opportunity I have seen to try and trace this further.
PS: A lot of family researchers, including myself, have originally followed the line of William Davis alias Robert Hudson, tried at the Old Bailey in 15th February1792, and who was transported on the Royal Admiral which arrived Port Jackson on 7th Ocober 1992. As some of us have learned after a lot of wasted time, this is the wrong William.
We learned that the correct William Davis appeared at a Hereford Assizes several times between January and March 1797 and was returned to Hereford Gaol on the 21st March 1797 having been convicted and sentenced to Hang, then reduced to Life transportation. He arrived at Port Jackson on the 20th November 1800 on the Royal Admiral (2). Many researchers have missed the (2) ofet rthe name of the ship which as we all know now denotes the second voyage of the shipo carrying convicts to Australia."

Mary Geer

1789 Born Henfield Sussex, parents Edward Geer and Mary Bowlden (probable)
1804 Charged with housebreaking at Horsham, Sussex, aged fifteen. Convicted at Lewes. Her accuser was David Baker of Etchingham.
Sentenced to be hanged, later changed to life imprisonment and transportation.
1805 Arrived Port Jackson on William Pitt
1806 Assigned to Benjamin Haywood, as servant to his defacto wife who was having a baby
1811 Ticket of leave. Eliza born.
1815 Mary and William Davis married St John's Anglican, Paramatta .
Mary and William had five more children
1831 Mary founding member of the first baptist church in Sydney
1851 Mary died, Kent St, Sydney . She is buried in the Baptist section of Pioneer Cemetery. (Janet Hill)

Janet Hill gave us the above. See http://www.geocities.com/geer_family
To access Janet Hill's write-up directly



"Mary Davis was one of the first converts to the Baptist Church in Sydney she is the 5th on the original Baptist roll and no details of the four before her have survived . It is also recorded Mary was deaf and fell asleep in sermons and meetings and snored.

"

Margaret Hardwick

"William & Mary are on the Welcome Wall at the Maritime Museum at Darling Harbour, where most of the early settlers have their names"
Janet Hill,
Trees in Ancestry have Peter Geer and Mary Patchin as parents for Edward Geer, but seeing we are not that confident of Edward, stop with him.
No parents for Mary Bowlden


Mary Geer Convict Indictment from Vic Douglas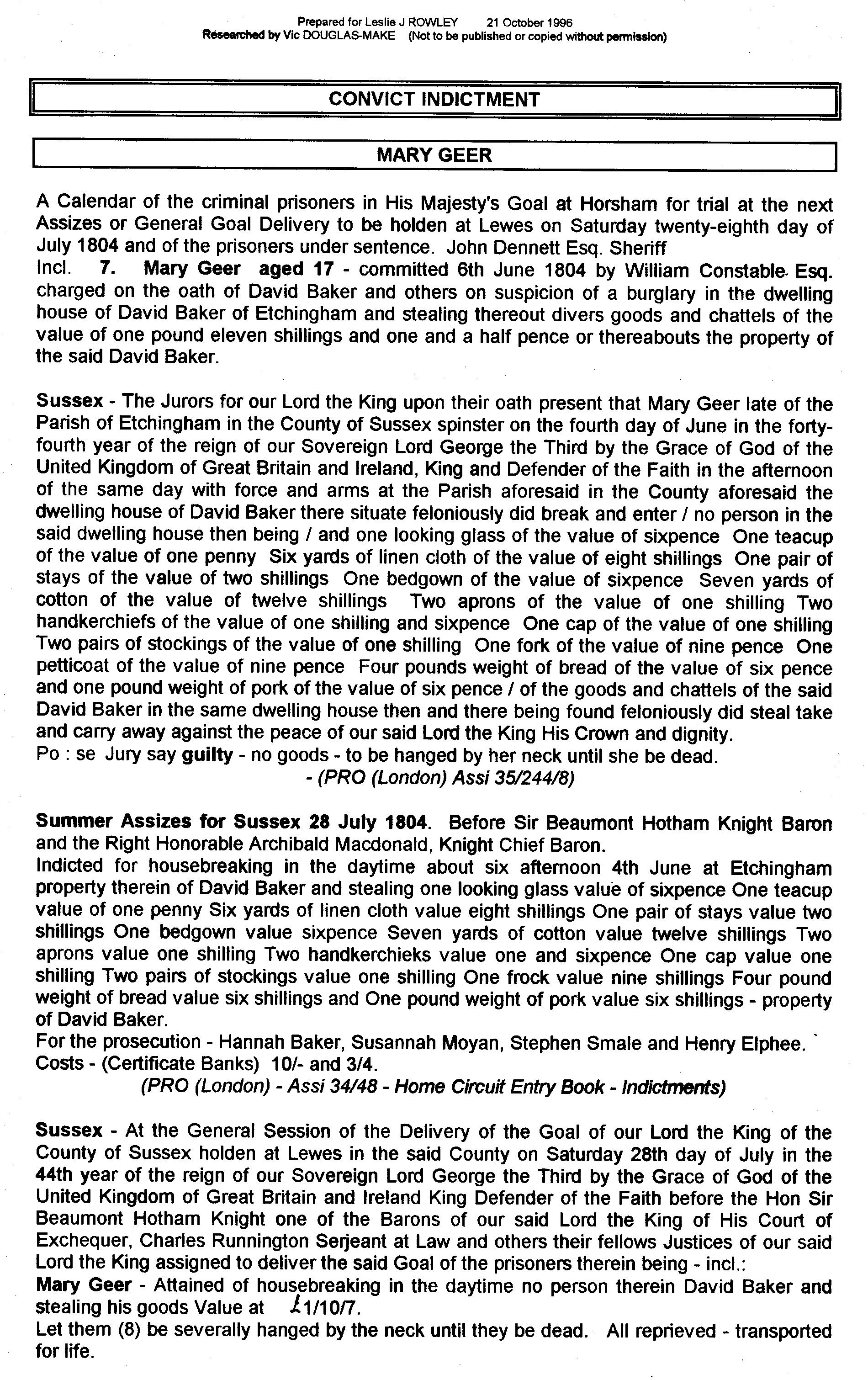 William Davis
Also went by the alias William Brown

1772 Born Birmingham, England (-1776?) His Convict Indent has his native place as Parish of Ross (Hereford). I think this is Ross on Wye
1797 Arrested Ross-on-Wye for stealing, sentenced to life imprisonment Hereford
1800 Arrives Sydney on Royal Admiral
1810 Ticket of leave
1816 Conditional Pardon
1818 Granted convict servant (at the 1823, 25 and 26 musters



"Our William Davis does have records in the Colonial papers mainly memorials for land for him or his children they are easy to follow you look for two leads (William Davis convict on the Royal Admiral 1800 or William Davis alais William Brown).

William was granted a 40 acre land lease at Castle Hill - Reel 2560 also Vol 3 348 121 original lengeth of time the lease was till 13 September 1824 at an annual rate of one shilling the condition was to cultivate 12 acres. It was on the road to Dural and it was bounded on the south side by Sexton's Farm. (I think I know exactly where it is, there is a Steiner School on it today) In 1825 William tried for a further 40 acres on the grounds of the size of his family - it appears he was granted it but never took it up. At a guess too swampy too out of the way just not practical he was living in Sydney by this time. Eliza and James both got their land.

The other question William Davis dying in Windsor Hospital that date according to the church records he is a pauper why do you think its William. I think the one buried by the baptist minister at Camperdown Cemetery is more likely, I have no evidence beyond he is the only William Davis buried by the Baptist Church.

"

Margaret Hardwick

William Davis Convict Indictment from Vic Douglas
ss

Benjamin Haywood
"Benjamin Haywood did have a defacto wife who was expecting when he employed Mary from the William Pitt as a servant There is no record they ever had a sexual relationship and none of Mary and William's children have any record of being Haywoods. Hepizabah is always recorded as Greer or Davis all are baptised as Davis children and William in his various memorials always claimed them as his children.

Benjamin Haywood is an ex convict alias William Morris arrived on the Salamander 29 August 1791 enlisted in the NSW Corp 1 April 1801was on Norfolk Island 1802 until 1804, (I have read and unfortunately did not keep a copy that he was injuried in the Vinegar Hill Riots), 1805 apparently transferred back to the mainland his commanding officer was Wilson he definitely had a land grant (but I think he had problems managing it and it was over taken by his officer this was a little trick they pulled to get more land - I have no back up information). 1808 he was in Parramatta - 1809 he was attached to 500/600 24 April 1810 he was transferred to the to the 73 rd (that means he was invalided - there are no records of death etc) this information came via Jan Stinson "A Colonial Regiment New Sources Relating to the NSW Corps 1789 -1810" edited by Pamela Statham.

"

Margaret Hardwick



Email from Sheila (Davis) Tilse, descendant ot of William Davis and Mary Geere

Mary's surname is spelled "Geere" in the Henfield church records.

There are possible reasons why their union was not officially recognised sooner. In January 1807 Samuel Marsden, the only Church of England chaplain in New South Wales, left for England, where he recruited other ministers for the colony, The first to arrive was William Cowper, who was appointed to St Philip's Church in Sydney. Samuel Marsden did not return to Parramatta, where William and Mary were living, until February 1810. Andrew Houison, writing in the Australian Historical Society Journal and Proceedings, vol. 3, 1916, p. 363, says that during the period 1807-1809, some people opted to be married by a magistrate. The majority preferred to live "in a state of unblushing concubinage". William and Mary were apparently in that group.

After his return Marsden again resumed his farming activities and was also responsible for many civic duties, including sitting on the bench as a magistrate. It was here he earned his reputation as "the flogging parson". The time he spent caring for his flock was naturally curtailed. It was almost two years before he baptised the three oldest Davis children. In 1814 Marsden sailed for New Zealand to oversee his project to teach skills to the Maori. William and Mary married in 1815 after his return.

When the family moved to Sydney they had a closer relationship with that good man, William Cowper at St Philip's Church where William was sexton in 1830. Cowper baptised Robert and Charles Davis, presided over the marriages of Hepzibah and William Syrett in 1823, Eliza and George Onslow in 1826, James and Elizabeth Fowles/Faulkner in 1831 and Samuel and Cecilia Thompson Hooper in 1840. In 1823 he buried Hepzibah and in 1832 baptised William, oldest son of James and Elizabeth.
Acknowledgements
Thanks to Janet Hill, George Geer, Margaret Hardwick and Lyn Black. Margaret and Lyn corrected some of my errors on William Davis (much appreciated)
Edward Geer and Mary Bowlden's information came from Becci5 on a link http://www.gencircles.com/users/becci/5/data/7182. Also some details about the family
Vic Douglas for the Indictments above.

Research Notes
Some puzzling pieces of Geography
Mary's trial was held at Lewes, but Etchingham, the address of David Baker who was burgled is nearly 50 miles east of Lewes. Henfield is 10 miles west of Lewes.


The Henfield family


Edward Geer (b abt 1763, m Mary Bowlden 12 May 1788, Henfield Sussex)
Mary Bowlden (b abt 1767, d 1792 Henfield)
Ann Geer (chr 13 Feb 1789 Henfield)
Mary Geer (chr 18 Apr 1790 Henfield)
Thomas Geer (chr 04 Dec 1791 Henfield)
This is the only one in the LDS that looks even close. But May's age at her trial is given as 17. But the Henfield Mary was christened April 1790. That look close to her birth as an earlier child was christened in Feb 1789, and the couple married in May 1788. But this makes Mary just turned fourteen at her trial..
Note Mary Bowlden's early death could help explain the geography query above, and possibly was a factor in Mary ending up in trouble with the law. So the Heyfield family are only a 50% proposition?


Received from Jan Hill


Copies of Mary and William's trial documentation. Some images are difficult to read, so need to be turned into text before adding to this page
See References 198, 199 on file also

Genes Reunited checked for Mary and Edward geer, Mary Bowlden and William Davis
Opinions vary as to who Mary's first three children's father was
I am inclined to believe it was William.
The only further information that I can think of that might be material is whether Benjamin Haywood's wife produced children regularly through the period 1806-11
There's a project if you want one


From Barbara Price




I recently found the following site - it might fill in some blanks for you www.familytreelegends.com/trees/becci click on Andrew Davis

- I have had a look, still thinking about it



LDS


William Davis christenings in Birmingham (1771-75)
26 Aug 1771 Saint Martin, (John and Anne)
19 Jan 1773 Saint Phillips (Hannah)
28 Aug 1775 Saint Martin (John and Mary)
Any of theses are possible

William's Pipe?
I have received an intriguing email


I am an archaeologist working on material from sites in Sydney, including early Parramatta. I found William Davis and other Davises on your family website via google.

I have catalogued early smoking pipes marked "WILLIAM / DAVIS" and wonder if you have any information about what any Williams did. I am particularly interested in the convicted William as these pipes are rare and date to before 1840. Do you have any records about where or for whom he was working for as a convict or later, aside from farming? I have perused the Col Sec records but wonder how many relate to your particular family member(s).

These clay pipes are found amongst other early pipes made in Sydney and possibly Parramatta, as well as those imported from the UK. I would be very interested in any material you have relating to early Parramatta as this area is the focus for much current work, including the 3 early Hospitals beside the river

.

Reply

William lived in Parramatta from 1815 to 1825. My writeup on the webpage does not agree whith Janet Hill's story, which suggests that William Davis moved to Kent St Sydney about 1825

We can check past that from Convict Musters. etc which ran thru the 1820s and 30s I think. (He had servants assigned by then). I will check this out on my next trip to the Genealogy Library, and see what I can find. A lot of this material is available on CD

Some notes from Janet Hill suggest William may have been a shoemaker in 1814.

I will get back to you, but it may be a few weeks

But it looks as if your Parramatta pipe is our Williams, it predates 1825
---
If you have additions or corrections to this page, please
contact us
Bones in the Belfry
home page
Page last updated - 26 Nov 2007
5 Mar 09
28 Sep 11
17 Dec 2012